01-12-2012, 07:27 AM (This post was last modified: 01-12-2012, 09:51 PM by gamerX1990.)
This is specifically targeted at AMD's mobile Llano APUs, but will work with any Phenom II, Llano, or Zacate processor. May also work on Turion CPUs but unsure.. Chances are you at least heard about AMD's new APU platform for mobile and desktops over the past several months, known for having superior fusion graphics that can and do beat several of nVidia's offerings for less and completely obliterating ALL of Intel's current IGP offerings, their "issue" more so on the mobile platform, is their "behind the pack" CPU performance. They have TurboCORE to go against Intel's Turbo boost but is usually inferior to it and simply isn't aggressive enough, not to mention it only kicks in for seconds like when you are launching a program, even one core at full load its sporadic at best giving almost no gain. Sandy Bridge is kind of walking on them with CPU performance, while getting walked on by AMD's IGP performance.. but what if you wanted both in one for the price of the "steal" AMD notebooks?
Well 99% of reviews compare the A8-3500M, ill use this as example as that is the APU my notebook has(Acer 5560G-SB448), to Intel's "equivalent" mobile offerings such as several Core i3 and i5's. While the A8-3500M's "stock" (gated) speed is 1.5GHz with 4 core load says AMD, Intel's offerings are all over 2.1GHz at least and much faster with most CPU tasks, and thats not counting turbo boost for those equipped with it. 1.5GHz vs 2.1GHz+? Really? This is where a program called "K10Stat" comes in which can be found below. Hint: At 2.4GHz Llano is on par/slightly ahead of a 2.5GHz Core i5 2520M! Now thats better once speeds are matched, REVIEWERS!

http://sites.google.com/site/k10stat/
My K10Stat settings: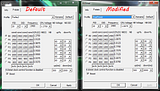 Each speed has been tested for proper stability as well, and you are not seeing things, that IS how much VID can be dropped, or how little it can be increased for that much speed. "B0" is the TurboCORE state, while the rest below it are self explanatory, my particular APU can do up to 2.1GHz @ stock VID of 1.0125v, thats 600MHz free with next to no extra heat mind you at stock my notebook reaches only 56c Prime95 load (Linpack is less stressful for APUs). I chose to stop at 2.4GHz for P0 state which is max speed with 4 core load before going into turbo, which is set the same so it stays where it is anyway. That is not even really an overclock, its "bringing it back up to stock", temps at that speed and VID is only 78c which is much cooler than my i7 notebook was and several other notebooks out there. This is for AC only, battery is locked at the lowest speed of 800MHz by OS settings, and as you see with the reduced VID, even MORE life to the already great battery!
Luckly AMD's APUs, at least the mobile ones, are UNLOCKED and they have gone WAY OVER with the VIDs as you will see below. The result of this? Many are undervolting and "overclocking" at the same time, even dropping temps and gaining speed while PRESERVING battery. You can change each performance state of the processor and it's VID for each, if you are using it on a Phenom II you should also have northbridge speed and VID options available as well. But what does this mean for PCSX2 since these APUs are referred to as "terrible for PS2 emulation"? Well lets see...
Tested games are as follows in order:
1. Ace Combat 4
2. Rumble Racing
3. Sky Odyssey
Plugins used:
-GSdx r5065 SSE2 (native res)
-SPU2-X r5025
-Lilypad r4959
I chose these 3 games as they demonstrate stress the best in different parts of the PS2 emulation (devs can add to that or embarrass me lol.. if they read this), I say so cause AC 4 has very intense GS areas, most of the game is, RR is much less intensive all around has been the first game of mine to run flawlessly at full speed easy, while SO loves to chomp on EE hard even on my desktop, but has somewhat recently been optimized and is now full speed with no glitches, and these 3 games pretty much have no issues with any bugs or anything that could skew results..
My notebook of coarse has switchable graphics, IGP which is HD 6620G 512MB or discrete HD 6650M 1GB, and obviously all tests have been run on the latter.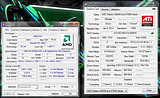 All PCSX2 settings are default with speedhacks OFF, except for MTVU on for all Sky Odyssey tests as the game can reach full speed with it on the notebook. For SW mode render threads is set to 3 as that gave more FPS than 2. The results can do the speaking now..
====================HW MODE====================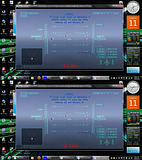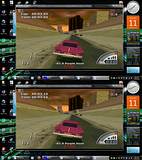 ====================SW MODE====================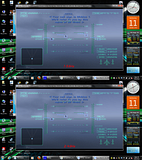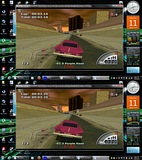 Nothing else more to say really.. My previous notebook which was a Asus N71JQ-A1 that I got in 2010 as a b-day present to myself that was $1500.. with the following specs:
-Core i7 720QM 1.6GHz -> 2.8GHz with turbo says Intel
-4GB PC3-10666 RAM
-2x Seagate 320GB 7200 RPM HDD (non RAID)
-AMD HD 5730 1GB Mobility
-17.3" LCD
-b/g/n 150Mbps
-1.5-2.5 hr battery life with general use
-50 mins gaming (and this is on all power saving settings!)
Sold it early Dec 2011 for $800 and got a new notebook as my own X-Mas present for $673 (including tax, CDN) with the following specs:
-AMD A8-3500M 1.5GHz -> 2.4GHz with turbocore say AMD
-6GB PC3-10666 RAM
-Western Digital 750GB 5400 RPM HDD
-AMD HD 6650M 1GB
-15.6" LCD
-b/g/n 300Mbps
-4-5 hr battery life with general use
-2-2.25 hr gaming!
Made a profit by the switch, more RAM at the same speed and timings, more HDD space and its very fast for a 5400 RPM.., discrete GPU is better, IGP is almost as good as the 5730 mobility... I actually LIKE the slightly smaller screen, battery life is in the stratosphere. The fastest the i7 ever turbo'd up to was 2.6GHz but it wasn't holding it, on an off for several second, most common was 2.2-2.5GHz and it ran HOT, Prime95 put it to 89c and thats at 1.6GHz with stock VID whatever it was as nothing could read it or chance it's speed. The APU is beating it on CPU power when its running at the 2.4GHz it should be, yes its beating an i7 in everything, PCSX2 did not get anywhere close to FPS like that with that previous notebook, and in native x64 code games the performance even at gated stock of 1.5GHz is great, at 2.4GHz everything rose by over 15 FPS, 3D mark scores go up by over 1100 (03/05/06). The APU is also assisted by the nice caches it has, 64KB L1, 1MB L2 per core. The desktop versions of these current APUs are EXACTLY the same the ONLY difference is the faster IGP speed and memory support, meaning if you put an A8-3500M at 2.4GHz with DDR3 1333 RAM @ 9-9-9-24-1T against a desktop A8-3850 at the same speeds and timings, CPU performance won't move at all.
Oh just wait till bios mods are available for UEFI notebooks... I can easily see K10Stat's ability being in the bios..

-Core i7 6700k @ 4.5 GHz
-GIGABYTE Z170X-Gaming 5
-G.SKILL Ripjaws V 16GB DDR4 2400 @ 14-13-13-30-1T
-EVGA GTX 970 4GB @ 1380/1853 MHz
-Crucial MX100 512GB, Silicon Power S60 120GB, Toshiba 2TB 7200 RPM
-PC P & C Silencer 750 Quad
-Windows 7 x64

-----

-Core i7 4710MQ
-16GB DDR3 1866
-GTX 965M 4GB @ 1127/1353 MHz
-Mushkin ECO2 240GB, HGST 1TB 7200 RPM
-Windows 7 x64