08-16-2009, 08:05 AM (This post was last modified: 08-17-2009, 11:22 PM by unauthorizedlogin.)
First off, sorry if the charts make no sense, I did my best working with as many variables as I had.
This all originally started as just a comparison for i7 and C2D Cpu performance for Bositman. When I do these sort of things however I tend to get carried away. I decided, what the heck, why not test as much as I could? I regret not having more hardware to test, I did what I could with relevant equipment I have available. Also, after seeing how many tests I actually had to run, you'd understand me being just a little lazy too.

The goal of all these tests was to try and address some common questions I had seen come about, and for my own curiosity as well. Is Crossfire a benefit to PCSX2? Does L2 Cache impact performance greatly? How big of a benefit does Windows 7 provide over Vista?
Some of the answers were actually pretty shocking and were hard to believe (and accept haha); but all of the data collected is as close to accurate as I could get within Human error.
Please note that the data shows the lowest FPS that was reached and the Highest. The Average shown is the actual speed that the game would generally run at (outside of the spikes.)
I couldnt run any SLI or AMD tests, although I wanted to, so sorry to anyone who might feel hurt. Running tests in XP, I decided to wait on due to laziness. Setting up XP right now doesnt sound fun just for running some benchmarks.

Anyways on to the Benchmarks. All tests were run using these settings: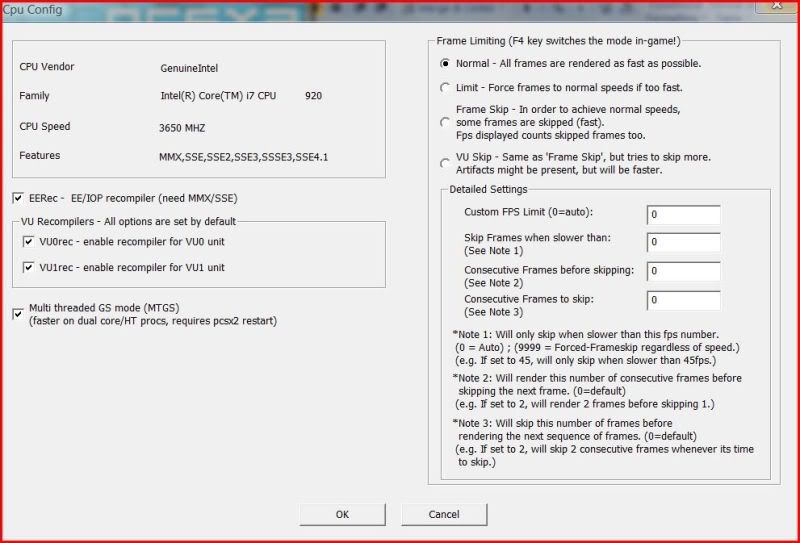 These tests show right off the bat how much faster the 920 is. Up to 40 fps more at the max over the E8400. The E6600 maintains about 10 fps less than the E8400 through most all tests.
KH2 seemed to be bottlenecking the CPU's due to the lower end GFX cards, once the 4890's were put in, the differences in power are shown with almost 30 more fps.
It slows down for me while sitting at the Calm Lands item shop in the center still. This game appears to require more CPU than GPU since performance was the same for the most part regardless of GFX card setup on all CPU's. Again, i7 is in the lead but by a much less noticeable lead, about 20 fps.
Although less noticeable again the i7 does have an average running speed of about 10 fps more than the E8400 on GTA as well.

Here on GBA 3, you can see that the additional gfx card does make a positive impact, but it's very minimal. Overall, this game is slow without VU Cycle steal but it's great for showing how little difference the i7 line really has over the C2D, sadly.

After running the tests with the frame limiter off, I'm a bit more happy with the performance of the 920 over the 8400. It's clear also that Crossfire has more negative effects than positive, this might be different on the latest revisions, but I don't think I'll get that crazy yet. Taking a break from benchmarking for a little while now. Thanks
CPU : i7 4930k @ 4.0GHz
RAM : Corsair Vengeance 8x8GB 1603MHz 1.60v
GPU : Asus R9 290X 4GB
MOBO: Asus Rampage Extreme IV
OSYS: Windows 10 Pro