02-01-2014, 05:51 PM (This post was last modified: 10-17-2020, 10:16 PM by nokiajavi. Edit Reason: New Version JLojch 4.59 )

Latest Version of the Program: 4.59 October 17, 2020
Latest Version of the Updater: 2.27

October 

17, 2020
Latest Version of JLojch Android: 2.18 July 13, 2020
Welcome friends here I bring my application I've been developing since 2009, and now, in this latest version I added the PCSX2 compatibility list.
Well To Start
What is JLojch? What is the utility JLojch?
It is a java application that used to query, add, modify and delete games from the list of games compatible with:
-HDLoader/HDAdvance
-Open PS2 Loader
-USBExtreme/USBAdvance
-ESR
-PCSX2
JLojch was created to have a fast and efficient access, which lets in all, not a single person, keep all updated listings, all in one application, in one place, all in one unified place all people using different methods, forever without having to make a single person has to go take care of entering all the contributions of users; JLojch automatically public and everyone can see real-time publications.
Languages JLojch
JLojch is available in 4 languages: Spanish, English, French and German. The French and German translations may contain errors
How to use all the functions of the program?
To use all the features of the app as: add, delete and modify games etc ... have to register for the application, accessed from the Settings Menu -> Register
Actions: request games, search games, filter etc. can be made without registering on the application. The registration application is only for users who wish to modify or add more games to the list.
I can Use JLOJCH on my PC?
JLOJCH can be used in Windows or Linux or any operating system you have installed Java version 8 or higher.
JLOJCH this tested and works perfectly in the following operating systems (NO means NO work on other versions):
Can I use JLOJCH on my phone?
Yes, currently it has been released a version of JLojch for
Android
, obviously does not have all the features you have the PC version, but the basic functionality to check the listings HDLoader, USBExtreme, ESR, Open PS2 Loader and PCSX2.
This application is 100 % created from scratch by me. It has no limitation as some users tested in the previous beta version.
Changelog:
Screenshots:
I have tested this version on the following devices without any problem : Samsung Galaxy S3 , Sony Xperia L , Lg Optimus L5 II , HTC ONE SV, BlueStatks 0.8.7 ( Tablet )
It is the first official version of Android JLojch and my first application for this programming language , I hope I have as much acceptance as the PC version . You can comment to my future improvements or errors you find.
Version History
JLOJCH Changelog
JLojch history is available from the JLojch application in the menu Help -> Version History.
Functions and usefulness of this application: (Let it offers and what can be done)
You can view all the features of JLojch, Jlojch running and pressing the
F1
, or from the Menu Help -> Help
or any questions do not hesitate to lend to me writing here or in a private message, improvements or suggestions you please put the application is accepted, also if you find any bugs or errors in the translations of tango elements or anything else you comuníquemelas
Here I show a screenshot of the application: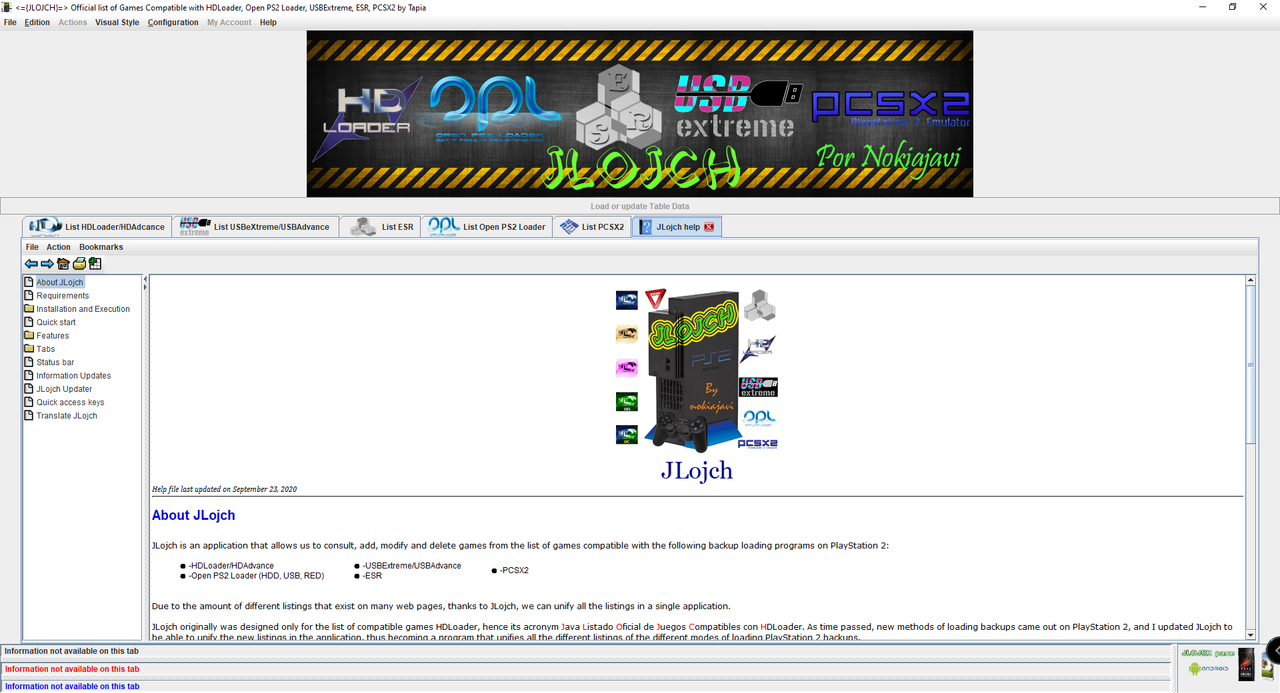 To run the application you just have to double click on the file or Jlojch.jar do this right click the file and choose Jlojch.jar open with Java:
If you do not have this program, click Choose Program ... find the x default java machine is in: C:\Program Files\Java\jre8\bin\javaw.exe
ó
C:\Program Files\Java\jre1.8.0_251\bin\ javaw.exe
Depending on the version of java installed path is JR8 (for version 8) etc.
For Linux users, if you said to run home when trying to run or ActualizadoJLOJCH.jar JLojch.jar or not you can run the class file is not found, you have to right click JLojch.jar above, then "properties", and you are going to leave and choose the option to run: Run the file as a program
---
Well and here is the download links of the program:
Compatible with all Windows version tested on XP, Vista and Seven, 10, Linux and MAC OS X, Solaris, Debian:
Download links:
JLOJCH OFFICIAL INSTALLER LAST VERSION (Windows only or using Wine in Linux):
Author's Website from SourceForge:
Official JLojch Installer (Windows only)
JLojch Portable LAST VERSION (All Operating Systems):
Author's Website From SourceForge:
JLojch Portable (All Operating Systems):
JLojch for Android:
Author's Website From SourceForge:
JLojch for Android