05-15-2014, 11:26 PM (This post was last modified: 05-15-2014, 11:52 PM by 7vincent7black7.)
I have 2 specific issues that are bugging me a bit.
My dialogue Options, seen here:
What you see are the two options. "Accept Mission" then a space, and "Leave".
What you are not seeing is that there should be a second option in the middle that flickers in for half a second and then disappears. This occurs for dialogue options, and even worse for actual dialogue subtitles. If I'm lucky, there will be 3 lines of subtitles, and only the first one is flickering in for 1/4 a second and disappearing again.
If I'm unlucky, I see the intsertion point of the subtitles running across the screen as the words are SUPPOSED to appear, but hte subtitles do not, its just a running white insertion point.
Or, the entire block of subtitles don't appear at all, or are appearing and disappearing over the course of seconds that the actors talk. It's all rather annoying.
Texture flickering/popping issue.
I have two screenies. The bench looks different in each, and that is because static objects like trees, telephone poles, buildings, and benches seem to not be rendering textures well, and it is quite annoying.
The objects flicker between separate textures as you walk around them, and the wiki I find on this game on PCSX2 site says that Skipdraw 5 should fix this issue. I do not see it fixing anything other than flames showing up as black splotches of anti-color if such a thing exists.
I would use skipdraw: 5. But my dialogue options and subtitles not showing up was a result of my HW Hack being set to five in the second options menu, so it being set to 5 messes with subtitles and displaying dialogue options. I have to set Skipdraw to 3 to be able to know what Krypto is about to be told what to say while in conversations.
If you set Skipdraw to 3 instead of 5, the dialogue works correctly. But the Saucer's flames coming from the rockets can no longer be rendered adn appear as pixelated black/purple/everything and horizontal splotches of blockey-ness.
At the moment I have to choose between non-annoying flames, or being able to use conversation choices. Skipdraw: 5 is not fixing my textures afaik.
So, I'm not sure how to get the emulator to display static objects with just hteir intended textures.
Evidence: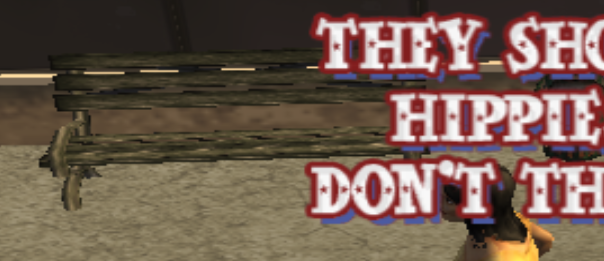 I think that is all.

Update:
If you set Skipdraw to 3 instead of 5, the dialogue works correctly.
I'm hoping someone can help me see if there is a setting or trick I can use to be able to see dialogue, and not have texture popping issues, and texture rendering issues.
---
I have attempted to have Skipdraw set to 3 and used F9 to switch to Software mode to try to fix textures. It has fixed the textures, but now my game is running slower as before.
I will attempt to set Skipdraw to 5, and not hit F9 to switch back to hardware mode, and hopefully my game will run better. I will update from this post to affirm or deny changes.
Not much change. If I toggle F9 at all to the other setting, it makes the game too CPU intensive or whatever, and makes it slow. Though everything looks better, it does not run as well.
---
I'm dumb I think. I have a quad core processor, and I had Software Mode's "Extra Rendering Processors" set to 0. Thats why my Software mode was so slow. ._. I needed to set my extra processing cores setting to 3 so it could utilize 3 cores and have one free. Now my software mode is running like it should.
So yeah, my solution would likely have been to learn about these settings beforehand, but I like to just dive into things. I'm a bit rash and compulsive.

I might keep this thread open because I haven't tested dialogue yet, but my graphics seem to be right now, and its not slow. I just need to know my dialogue and subtitles will display.