Hi everyone!
FFXII Editor
and
FFXII IZJS Editor
are savegame/memory editing tools for
Final Fantasy XII
and
Final Fantasy XII International Zodiac Job System
.
By using these tools you can make your game easier, harder, customize the Battle Menu by disabling unwanted Magicks or Technicks, and do many other things. If you have never played the game before I don't recommend you to use any kinds of hacks, since too easy gameplay can cause a loss of interest in the game itself.
Currently supported savegame formats are:
AR MAX
(
.pws
and
.max
),
CodeBreaker
(
.cbs
),
Memory Linker
(
.psu
) and
RAW
savegame format. Also, they can directly edit the game in PS2 Emulator memory. Below is the list of features:
Edit Gil, Clan Points and Game Time (useful for changing the weather in Giza Plains).

Activate/deactivate Weak-Mode (when Weak-Mode is activated, no EXP are gained for defeating foes).

Now for FFXII too!



Activate all Gambits.

Activate all Teleport destinations.

Activate Espers on the license board.

Party editor. You can add/remove/replace characters in your party. A total of 29 characters including guests and espers are available for selection.

Edit characters stats, job and equipment (includes extra equipment such as Omega Mark XII's laser beam weapon).

Complete License Board editor. You can activate or deactivate any particular license of any job.

Gambit editor. Edit Gambits for characters including Guests and Espers. Also, it comes with extra Gambits and Actions that are unavailable through the game.

Status Effects editor. Includes about 150 of various effects (immunes, weakness, absorb etc...).

Equipment editor. You can add/remove any weapons, ammunition, armor, accessories.

Item editor. Potions, Elixirs, Motes, etc...

Loot editor.

Ability editor. You can activate any Magicks or Technicks.

Map editor. Ivalice maps and candles.

Key Items editor. Monographs, keys, trophies, etc...

Bazaar Goods editor. Activate any particular Bazaar item or reset History for already unlocked Bazaar Items so they can be reactivated by selling necessary loots in the game.

Bestiary editor.

Sky Pirate's Den editor.

EDIT (26 April 2011):
New update:

FFXII Editor v2.1.2

and

FFXII IZJS Editor v2.1.2

. Here are the changes for the latest version:
Added

AR MAX

(.max, .pws) and

CodeBreaker

(.cbs) savegame formats support.

Some code optimization.
The tools require
Microsoft .NET Framework 2.0
or higher installed on your system. You can download the latest version here:
http://www.microsoft.com/net/download.aspx
.
For more detailed information, please see the supplied

README

file (can be also accessed through

Help->Readme

menu commands).
Screenshots: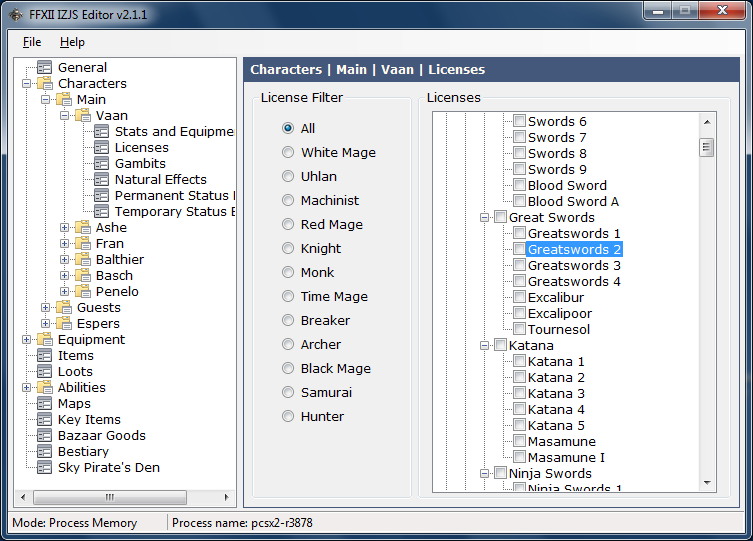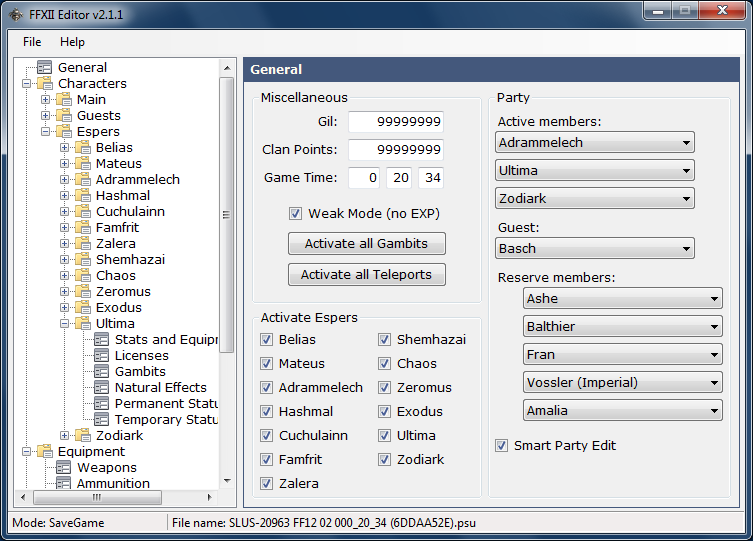 Have fun!