08-04-2011, 03:51 PM (This post was last modified: 08-04-2011, 04:01 PM by SinnerSmile.)
Hello mates!!! It's me again, and now with God of War II. The problem is that on native scaling or on custom resolution it looks like that the "screen" that contains HDR displaced from the.. hm.. "main screen". Ah yeah forgot to say, im playin that version with 60fps limit, not 50. NTSC-U version if im not wrong. Hm kinda strange U - is US version? I'm playin it on Europe v 2.0 BIOS is this ok?
You can see this issue even on the main menu screen clearly.
Here is not-native and native res screenshots: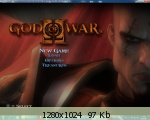 I realy dont want to play on native

My config is
i5 2400 3.1Ghz
Radeon HD 6950 2Gb
4Gb RAM
Win 7 x64
Using Dx11 gsdx, all speedhacks reccomended + VU scaling on 2