I'm not sure if anyone has had this issue, and I wasnt sure how to go about searching for it.
Lately on KH I noticed that the Right Thumb Stick (Down/Up) were randomly changing. This means that mid battle, running, or talking to someone it would switch between options. this makes battles extremely difficult, when trying to stay on attack or choosing a magic that you dont have hotkeyed. After playing with it a bit I have discovered that it's actually related to the Left Thumb Stick (Left/Right). So, whenever I turn left it moves Right Thumb Stick Down; and turning right will move Right Thumb Stick Up.
Also on GTA: San Andreas, while aiming it will move the cursor up even while nothing is being pressed. I've tried two different controllers and played with some of the settings to see if they would make a difference, but most just made new problems. I'm not sure whats going on, so any feedback is appreciated.
Attached is my lilypad config.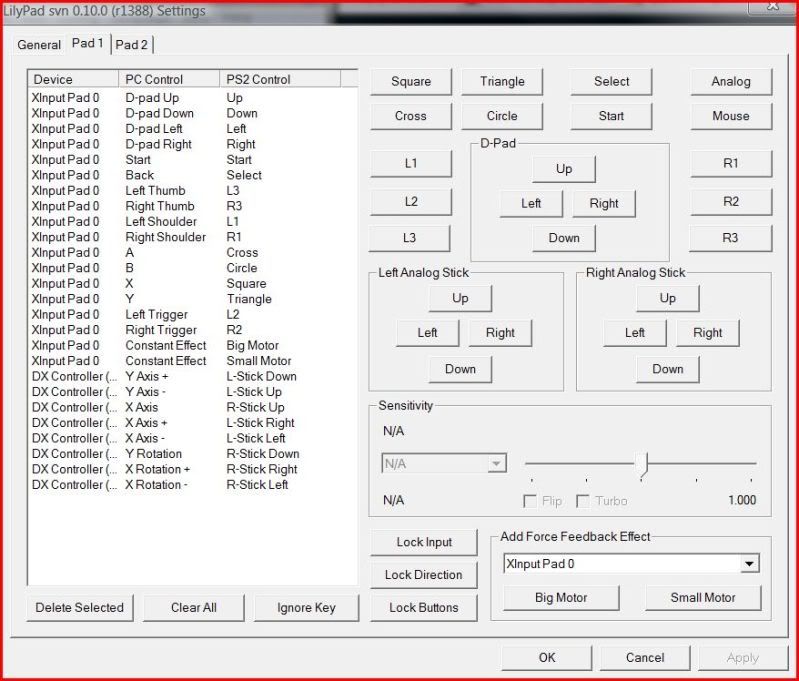 CPU : i7 4930k @ 4.0GHz
RAM : Corsair Vengeance 8x8GB 1603MHz 1.60v
GPU : Asus R9 290X 4GB
MOBO: Asus Rampage Extreme IV
OSYS: Windows 10 Pro