03-24-2010, 12:02 AM (This post was last modified: 03-24-2010, 12:30 AM by nintendo85.)
So, out of curiosity, I decided to find out how MGS2 ran on PCSX2 by looking on youtube. I managed to find some videos and thought "Hey, it runs really well on version 0.96!" and proceeded to do the same. I rip MGS2 with Delta and I open up PCSX2 0.96 r1888 and I get this: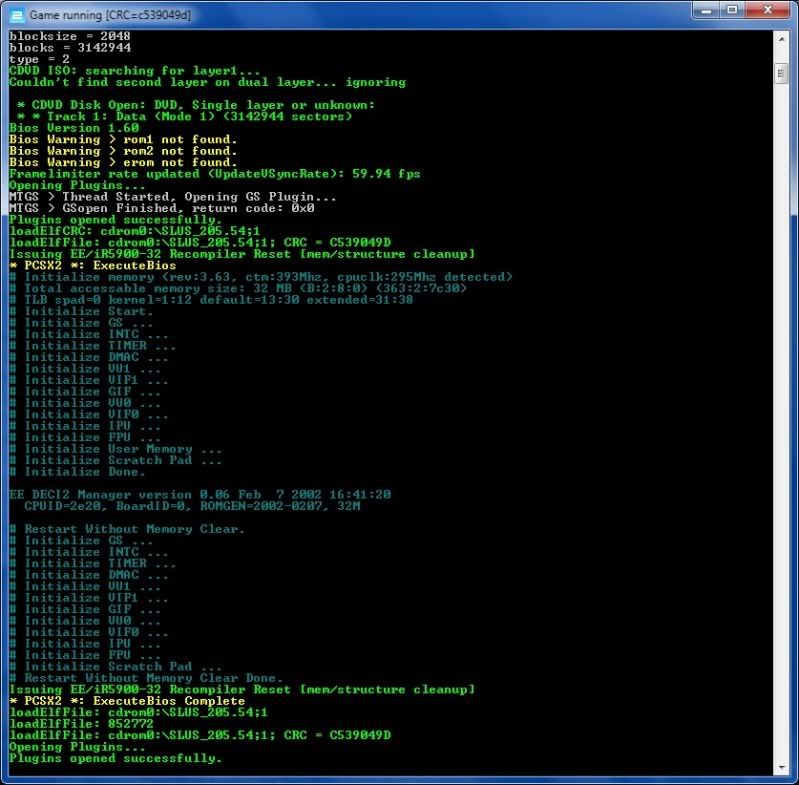 What I get is a blank screen, no FPS count, no sound, nothing. Heck, the emulator doesn't even crash. I talked to the person on youtube about his video and he just told me he downloaded it from some torrent site. Something seems really weird here, and I mean really weird. Somehow, this person is able to load an ISO he/she downloaded from a torrent site (which I think is stupid) yet, when I create a legit backup, I can't get it to load. Okay, that makes
PERFECT
sense to me.

Here are my settings/specifications:
CPU: Intel Core 2 Duo E8400 3.0GHz
Processor Instructions: MMX, SSE, SSE2, SSE, SSSE3, SSE3, SSE4.1
RAM: 4096MB DDR2 SDRAM PC2 6400
OS: Windows 7 Home Premium 32-bit
Video: nVidia GeForce GTS 250 1024MB GDDR3
PCSX2 Version: 0.96
Revision: 1888
BIOS: SCPH10000.bin (v 0.160)
Speed Hacks: None
VUCycle Stealing: None
Game Patch(es)Enabled: Star Ocean 3/Square Enix Fix
PCSX2 Plugins
-
GPU: GSdx r2693 (SSE41) 0.1.16 DirectX 10.0 (Hardware)
SPU: SPU2-X r2693 (XAudio driver)
DVD-ROM: Linuz ISO CDVD 0.9.0
Input: LilyPad r2591 0.10.0
PS2 DVD Game ID: SLUS_205.54
Game CRC= C539049D
Game Format: .BIN/.ISO
PCSX2 CPU Settings -
EERec: On
VU0rec: On
VU1rec: On
MicroVU0: On
MicroVU1: On
MTGS: On
Frame Limit: Limit
Advanced Settings -
(EERecs Options)
Round Mode: Nearest
Clamp Mode: Full
Flush to Zero/Denormals to Zero: On
(VU Recs Options)
Round Mode: Chop/Zero
Clamp Mode: Extra+ Preserve Sign
Flush to Zero/Denormals to Zero: On
So, what the heck is going on? A side note, I used Delta to rip MGS3 Snake Eater, and that game works fine, so I know I didn't rip MGS2 incorrectly. What could be causing this? I don't expect the game to run perfectly on an emulator, I mostly want to figure out what is causing this, and what options I have that could potentially cause the game to actually load. Out of all the games I have for PCSX2, this is the only one that never loaded properly.
Edit 1: I am
not
a noob when it comes to emulators (been using them since 1998).